Humility of Mary provides quality housing and individualized supportive services to homeless single-parent families, homeless youth aged 18-24, and low income seniors. In addition, Humility of Mary Housing works to prevent homelessness in Trumbull County by providing emergency food, clothing, rent, and utility assistance.
With senior sites in Wellington, Garfield Heights and Akron, low income seniors are offered quality housing and coordinated senior services at affordable rates.
Homeless single-parent families are offered quality housing and personal case management along with an array of life skills, education and job training services in Lorain, Akron, Northfield Center and Girard.
Homeless youth between the ages of 18-24 are offered quality housing and personal case management along with an array of life skills, education and job training services in Cleveland and Garfield Heights.
Humility of Mary Housing programs follow the Caring Compass plan, centered on Normalizing Life, Establishing an Individualized Support Plan, Strengthening Life Skills and Working at Lasting Independence.
Meet Some of Those Who Have Been Helped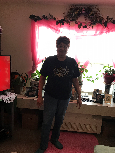 Barbara Holmes is a helpful and kind-hearted resident at St. Timothy Manor, which she has called home for over 10 years! Prior to her arrival, Barbara was confronted with a need for affordable and secure housing free from the concern over homelessness. A trusted friend from church recommended HMHI and even brought an application for her to complete. From the time she submitted her application, Barbara said the approval process was very fast and it wasn't long before she had a home to call her own. As she settled into her place at St. Timothy Manor, she noted how wonderful, kind, caring, and quick-to-respond our staff has been with anything she might need. Barbara enjoys creating personalized handmade cards for holidays and events and looks forward to sending them to her loved ones. She always enjoys time with her son, who absolutely adores her, and is happy to say he visits her home often. 
Struggling in a homeless shelter to gain custody of her two daughters, a local woman entered our program in March 2018. Her new circumstances allowed for self-discovery and we learned along with her what a motivated, teachable and resilient individual she is. Since her fresh start with HMHI, she has striven for self-improvement. From winning full custody of her children to furthering her career in Human Studies, her accomplishments have been remarkable! She's regularly setting goals for herself and reaching them. This includes securing a place for herself on the Dean's List and celebrating powerful sobriety milestones! In the future, she sees herself working for an organization that advocates for women's independence. She shared, "I could not have done it without all the support!" and it has been our honor to be a part of her journey. She is truly an inspiration to our organization and we here at Humility of Mary Housing are committed to continued support and motivation as she continues on her way.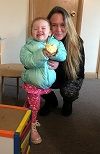 Jaime joined us in October 2016. This strong and compassionate woman faced an ongoing struggle with homelessness from the time she was very young. A caring mother, she makes her home here with a beautiful daughter, Bralyn. Jaime has demonstrated continued motivation and willingness to learn and grow. Regularly attending groups, workshops and events, her commitment to a better life for herself and her daughter are stunningly apparent. Refreshingly honest and uplifting in her interactions, she has spent her time here preparing for the GED and plans to continue her education. She would like to work one day in a dental office as an assistant. She also plans to own a home where her young daughter can play outside and she can entertain family and friends. She is incredibly determined in her objectives, which include being more open with her emotions, maintaining a drug-free lifestyle, raising a healthy and happy daughter, and continuing to better herself. She shares gratitude over how supportive HMHI has been to her and affirms, "This place has motivated me in more ways than one!" We can certainly say that Jaime has been as much a help and inspiration to us and it has been our privilege to support and witness her progress.
If you've been fortunate enough to ever know someone so kind-hearted and vibrant, they can easily brighten any day, then perhaps you've known someone like Joan. A resident at St. Timothy Park Apartments for several years now, Joan has been a radiant light in our community. She is beloved as a mother, grandmother, neighbor and friend. She regularly attends events at her residency where she is cherished by neighbors and staff members. Upon entering retirement, Joan looked into market-rent senior housing and found herself hesitant with concerns over sustainability. Her niece introduced her to HMHI and helped complete the application and she was placed on our waitlist. Once a place was available, she said the process moved rather quickly. She loves the affordability and while she smiles, saying, "I can't say enough about this place!" She offers that she is so happy to live here and would "100% recommend" this organization to anyone.

Lisa is a proud mother to three amazing children, Hunter, Ash and Aiyana. Married for over a decade to a man from Colorado, she returned with him to her hometown, Girard, when their first child was due. Lisa passes most days bedridden, suffering intolerable pain caused by a condition which, due to insufficient medical insurance, continues to go undiagnosed and unmanaged. Her family lived with her mother-in-law for a time. There was unexpected upheaval when her mother-in-law suddenly exited the home over gambling debt, leaving the family with unpaid household bills and an unsustainable situation. After this, Lisa decided to rent a home in what she called the "better" mobile home community in Trumbull County. Due to the nature of her husband's work, winter layoffs strained the household. Lisa and her family relied on Emmanuel Community Care Center to provide help with food, clothing and Christmas gifts for the children. In less trying times of the year, the family manages to find ways to give back, volunteering with ECCC!

Jalaveon is a young man whose story is just unfolding. He remembers how his mother's drug use left feeling alone and forgotten as a small child. He recalls times when nobody came to pick him up from school. A bit of hope arrived when his aunt took him in and spent years raising him, but at 19, his aunt sent him on his way to reconnect with his birth mother. As he establishes relationships with his mother and sister, he resides at Opportunity House and is thrilled to have recently been hired by the Cleveland Clinic.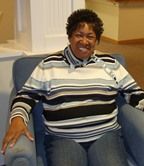 "How can I be homeless?" Phyllis found herself asking, astonished. A proud veteran, she'd sacrificed so much for freedom and her country when foreclosure left her without a place to call home. Unclear on what the future might hold, she was referred to Humility of Mary Housing. She experienced depression, overwhelmed at the thought of navigating a maze of affordable living options. Our staff welcomed Phyllis with compassion and understanding. We encouraged her to take pride in her service experience and to continue training for her certification in Chemical Dependency Counseling. She was further emboldened when she qualified to move into senior housing and transitioned from the Copley Road apartment to her permanent home at St. Martha Manor. Phyllis felt real comfort realizing her search for the place she belonged was over. She is happy to be home and feels truly blessed.  
You can help us in our mission ...
CRITICAL SERVICES THAT SAVE LIVES
Nothing gives us greater pleasure than seeing the look on a child's face the first time they walk into their new home. For many homeless, single-parent families, this is the first stable home they have had in a long time.
The Humility of Mary Housing staff members are truly blessed to be part of the lives of these families and to share in the rewarding experience of watching them succeed and grow into confident, self-reliant individuals.
It is through the generosity of our donors and friends that we are able to continue this work, assisting families to break the cycle of homelessness and poverty while providing them with the support needed to live a more abundant life.